Our publishers, Mortons Media Group, have recently launched a bookazine titled 'Moon Eyes' edited by Richard Skelton, using an interview by motorcycling journalist Chris Carter with John 'Moon Eyes' Cooper.
Motorcycle racer John 'Moon Eyes' Cooper found fame and success during the golden age of road racing in the late 1960s and early 1970s. From his youthful beginnings in the Derby Phoenix Motorcycle Club, he pursued his dream of two-wheeled triumph, attending events at circuits up and down the country.
John graduated to grand prix racing and riding in the Isle of Man TT – recording his greatest moment in 1971 when he beat Giacomo Agostini in the Race of the Year at Mallory Park, watched by thousands of fans cheering him to victory.
Moon Eyes tells the remarkable story of this down-to-earth racing legend in his own words, and is packed with images that evoke the heady days of British road racing and its heroes, including Mike Hailwood, Phil Read, Bill Ivy and Barry Sheene.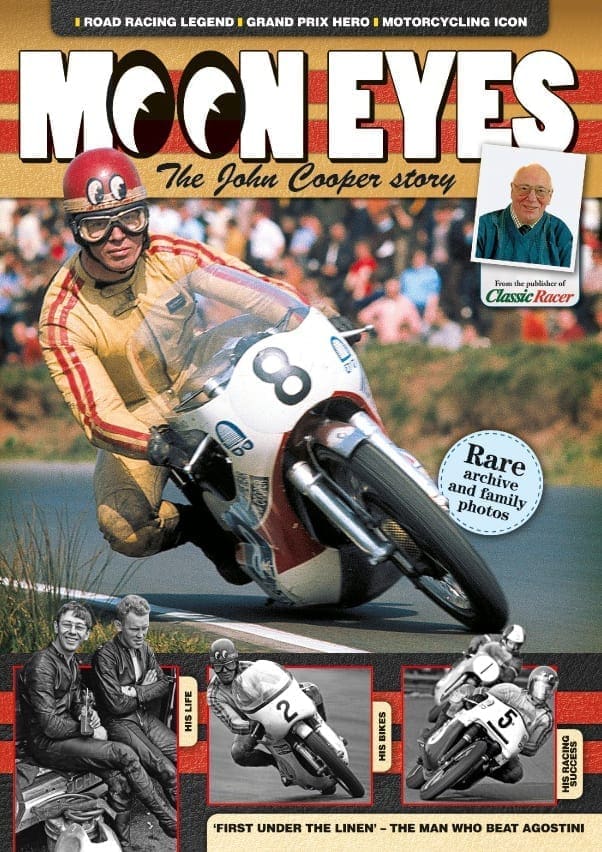 Take a look at this snippet from the new bookazine:
Chris Carter: You're famous for having Moon Eyes on your racing helmets and the idea has been copied around the world. How did it come about?
Article continues below...
Advert
There was a lad who used to come into Minions when I was there who was a bit of an artist and he painted Jiminy Cricket on a couple of my crash helmets, JC being my initials. But when I had an accident and needed another helmet doing in a hurry he was ill and couldn't do it. So I put some Moon Eyes stickers on instead and ended up sticking with them. The name Moon Eyes came originally from Dean Moon, a California hot-rod builder and speed shop owner. From a commentating and spectating point of view they were highly distinctive and made it easy for people to spot me. Nowadays the riders all have fancy and elaborate designs but from a distance, at the speed they're travelling, you often can't tell one from another and they don't really mean anything.
If you'd like to purchase a copy of the bookazine, click here: www.classicmagazines.co.uk/book50
---
Advert

Enjoy more Classic Motorcycle Mechanics reading in the monthly magazine. Click here to subscribe.
---