An incredible collection of 60 rare, mostly American, motorcycles will be put up for sale at Bonhams' Autumn Stafford Sale, on October 17-18.
"This is an incredibly rare find; 60 fantastic collectors' motorcycles, all carefully stored in the Brescia based private museum of entrepreneur and CEO of the Santoni Group, Tiberio Lonati," said Ben Walker, international director for Bonhams Collectors' Motorcycles.
"Mr. Lonati loved what motorcycles represent, 'complete freedom', the open road, something highly synonymous with US motorcycle marque, Harley-Davidson – which is perhaps why he had so many."
Stored in a huge private museum of motorcycles, the prized collection celebrates American marques from pivotal points in motorcycle history.
Highlights include a 1910 Pierce 688cc Four, estimate £60,000-80,000, and a 1930 Indian 1,265cc Model 402 Four-cylinder Combination, estimate £40,000-50,000.
The Lonati Collection began with Tiberio's son, Francesco, who has a great love for motorcycles. With his enthusiasm for the machines, coupled with knowledge of his father's likes, Francesco Davidson WLA, now offered at estimate £14,000-18,000.
This first motorcycle ignited a passion, and soon Mr. Lonati expanded to a vast 60 motorcycle collection, all housed in a private museum at the Santoni factory in Brescia, Italy.
The collection includes a variety of marques and models, including a 1916 Henderson 1000cc Model F, estimate £30,000-40,000, pre-war great the 1911 Flying Merkel 500cc 'Racer', estimate £16,000- £20,000, a 1920 Harley-Davidson Model J, estimate £18,000-£24,000, and at 100 years old, the 1915 Thor 1000cc Model U, estimate £28,000-£25,000.
Bonhams Autumn Stafford Sale takes place 17-18 October at The Classic Motorcycle Mechanics Show, Staffordshire County Showground. The Lonati Collection will be sold on Saturday 17. For further information, visit Bonhams' motorcycle department website.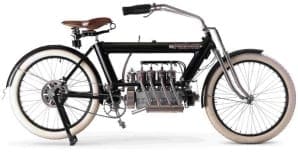 This 1910 Pierce 688cc Four will be going under the hammer, estimated to fetch £60,000-£80,000