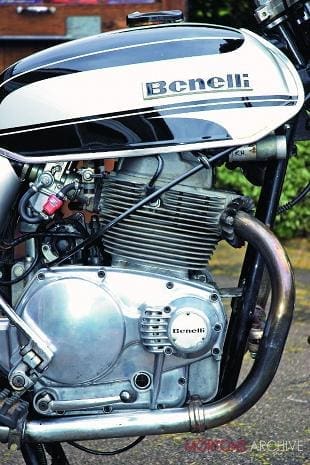 By 1920 the brothers had put together a 75cc two-stroke engine, adapted to fit a bicycle frame. The following year the engine grew to 98cc and powered the first Benelli motorcycle, and by 1923 Tonino Benelli was racing the brothers' bikes, with some success. Tonino won four Italian championships over the next five years – a 175cc sohc four-stroke took him to victory in 1927, 1928 and 1930, and the 1931 championship fell to the company's first dohc design. It was a brilliant but tragically brief racing career for young Tonino, which came to an abrupt end with a bad crash in 1932. He lost his life in a road accident in 1937.
The surviving brothers continued to build racing bikes, and Benellis scored a spectacular success in the 1939 lightweight 250 TT. Their four-cylinder supercharged 250 went on hold during the war years, to re-emerge in 1949. The post-war demand for lightweight transport saw Benelli road bikes offered in capacities of 98, 125, 350 and 500cc. By 1962 Benelli employed 550 people and were producing 300 motorcycles each day.
With lucrative exports to the US, Benelli sought to modernise its range of four-stroke singles, and with one eye on the massively successful BSA and Triumph twins the company drawing boards were commissioned to produce a four-stroke vertical twin. The brief was to produce a bike that had all the seductive qualities of a Bonneville or Commando, but with a greater degree of reliability, a high build quality and less vibration.
The resulting 650 twin debuted at the Milan Show in Autumn 1967. With an undersquare bore and stroke of 84 x 58mm the engine displaced 642.8cc, and promised a high rpm limit. Despite only having a single 30mm Dell'Orto carburettor with 30mm inlet tracts, the factory claimed a power output of 50hp at 7000rpm. Horizontally split crankcases supported a massively strong crankshaft in four roller bearings, and a single camshaft, driven by gear, operated conventional overhead valves through pushrods.
The idea of using two overhead camshafts had been rejected at the design stage as dohc engines were dismissed by the factory as a mere novelty – the recently released Honda CB450 was not considered by Benelli to be a serious rival to the well-established pushrod British twins. The cycle parts and frame had a decidedly British look, and rumours that the tubular frame closely echoed a Rickman Metisse were hotly denied by the factory.
Comparable British steeds
It was three years before the bike was released for sale and designated the 'Tornado', by which time it had put on weight. At 220kg it was heavier than the comparable British steeds of 200kg or less, and had been fully restyled with a 12 litre fuel tank and longer seat. The front brake was a double-sided 230mm drum affair with a total of four leading shoes, and starting was by kick-start only.
Sales were promising but not as good as the factory hoped, so for 1972 the bike received a makeover and gained an electric starter, mounted behind the barrels and driving the crank by a chain. Compression was raised from 9:1 to 9.6:1 and a second carburettor was added, but claimed power actually fell to 45bhp at 6500rpm. This was the Tornado S, and was to remain the final production version of the bike until its demise in 1976.
Owners soon discovered that the lusty 650 twin was a rather different beast to an old Brit. The engine thrived on revs and only really began to deliver power above 4500rpm. The right foot gearshift caught out those unused to more traditional designs, and caused further confusion by its 'one up, four down' change pattern. And while it was smoother than a British twin, some degree of vibration had remained with the engine layout, acknowledged by the factory's extensive use of rubber mountings for electrics, silencers and sundry components throughout the bike. The factory insisted that an amount of vibration had been retained to give the bike a more authentic feel – a strategy (incidentally) that was recently adopted by the American Victory concern with their large V-twin engines.
Easily dismissed
But Benelli had misread the market. The British twins that the Tornado was designed to take head-on were in decline, and the Japanese bikes that had been so easily dismissed as novelties a few short years earlier were beginning to dominate the market. The Tornado was now in showrooms alongside the Kawasaki Z1, the Honda CB750 and the Suzuki GT750, against which it looked decidedly dated. By the time it was dropped in 1976, Benelli, now under the ownership of Argentinian entrepreneur Alejandro DeTomaso, had embraced multi-cylinder designs and were producing unashamed copies of the Honda 500/4, ultimately with two extra cylinders shamelessly added to make the 750 Sei six-cylinder machine. The Tornado is now a rare and largely ignored bike, though it has its own strong following of dedicated owners.
This example belongs to Malcolm Powley, who has been slowly bringing it back to full roadworthiness over a period of years, out of sheer curiosity after it came his way at a bargain price.
As is the way of such plans, on the day we visited Malcolm to ride the bike it had decided to throw a frustrating carburation strop, which meant any test riding was restricted to short runs up and down the lane, punctuated by long periods spent energetically pumping away at the kick-starter. In that sense it did remind me of a Bonneville, but that's perhaps a little unfair on a bike that was clearly suffering the teething troubles of a recent reawakening.
We were able to get it running long enough to have a taste of the Tornado experience, and it's not what you might expect. The flywheels are light and the engine revs with surprising ease, though a relative lack of low end torque means some clutch slipping is required to get under way. To compensate, the factory have fitted a very low ratio first gear, resulting in a wide gap to second.
Out on the open road, Malcolm reckons top gear is effectively an overdrive. The bike steers exceptionally well. It's big, strong and very stable, and in some respects feels over-engineered. But it sounds truly gorgeous. The Tornado might have missed its calling in life, but if you're looking for a fun alternative to a British twin and want something a bit different there are still a few to be found.