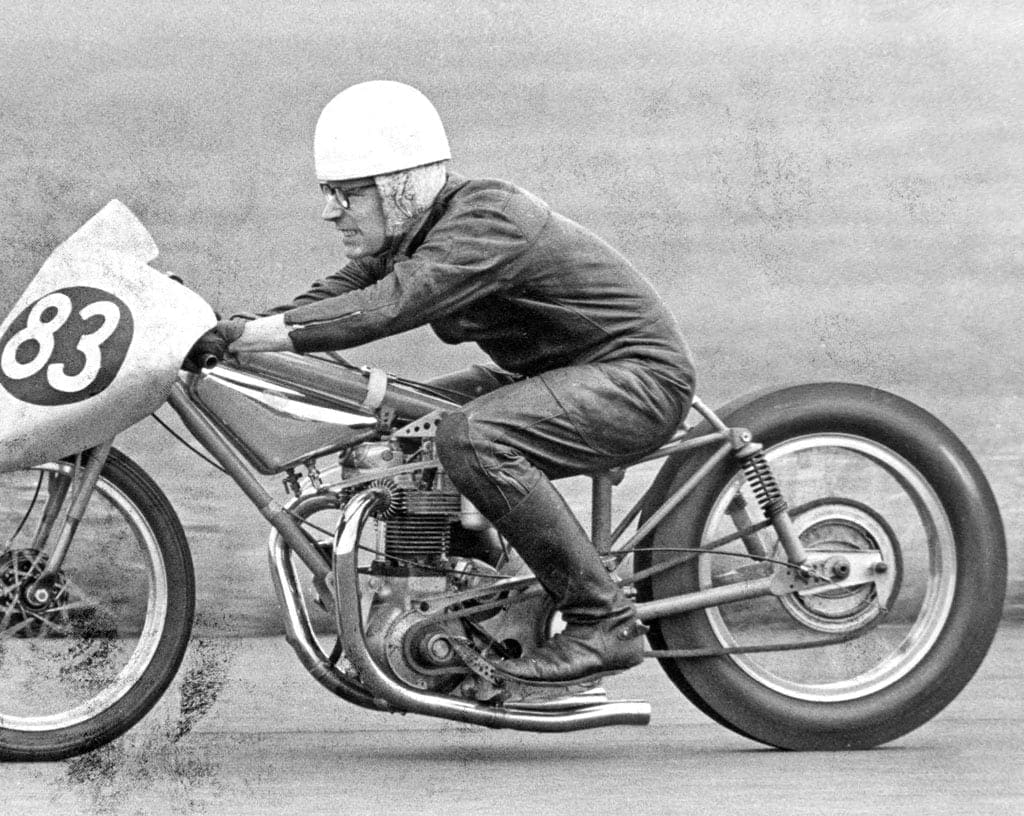 He's not very tall, is quiet spoken, wears spectacles and doesn't seem to dash around in a panic but my goodness, what Alf Hagon has done in his 30 years!
Have a look at his 1961 score of grass-track wins for a start: 250cc class – 67 starts and 63 firsts; 350cc – 78 starts and 73 firsts; 500cc, 142 wins – he can't remember how many starts. And last Sunday he scooped his third 350/500 double title.
Alf took to the grass at the age of 15 in 1947, with a Rudge, and had consistent successes but the big turning point in his career came in 1956 when, with a machine of his own make, he won the 500cc National Championship. Other riders made "make me one likeyours" noises and he was quickly in business. In fact since those days he has turned out approximately 70 Hagon machines and their successes in the hands of other riders can be see on any results sheet.
So that keeps him busy. But of course he has to fill his spare moments as well as running his business in Leyton High-road, so he rides on the speedway too. This started in 1953 at Haringay and then he moved to Wimbledon in '55, Leicester in '57 and now he rides for Oxford.
In fact he dices on the cinders at least twice a week as well as on the grass on Sundays and when he captured the British quarter-mile standing-start 750cc record at Wellesbourne recently, he dashed off to Coventry immediately afterwards for a speedway date. Success on speedway? He just shrugs and says: "I'm a sort of average team bloke."
The Sprinter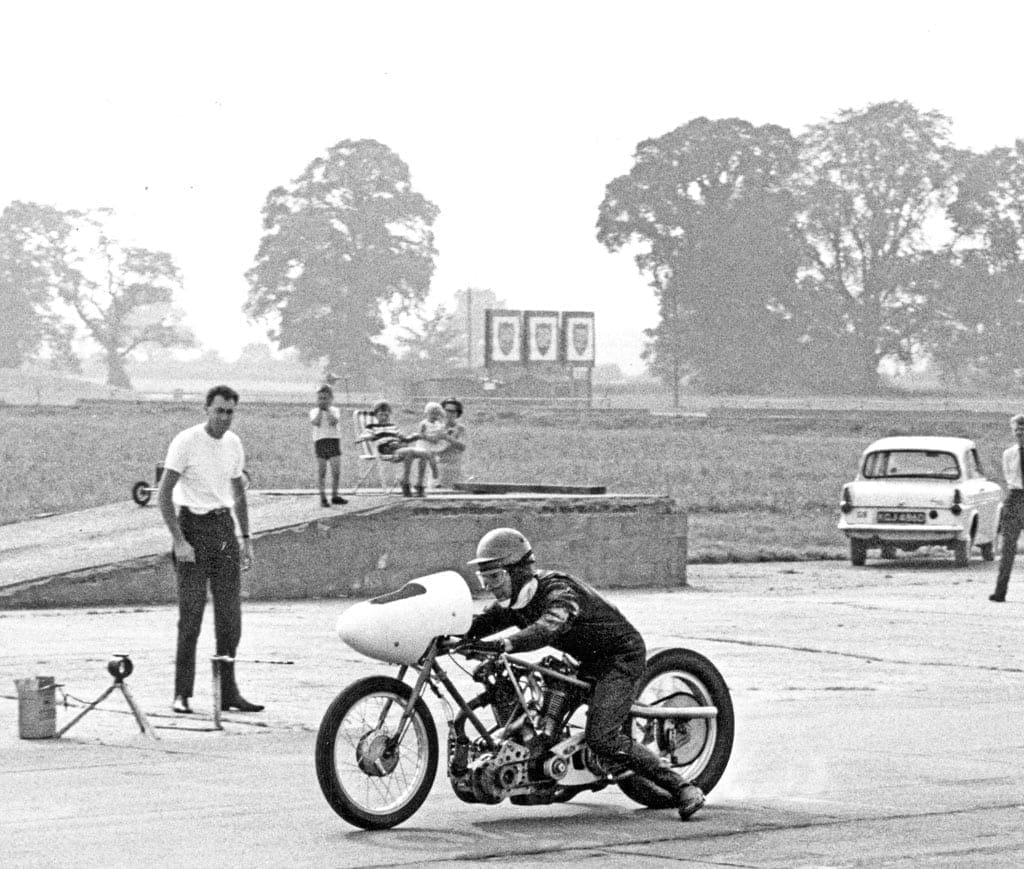 Then, of course, there is this sprinter. Alf has only competed in five sprints in his whole career. The first was at Trent Park in the distant past and then, in 1958, Gordon Colquhoun asked him to ride his Vincent whizzbang in the quarter-mile event at Witchford airfield.
This he did to such effect that the performance is still being spoken about in hushed whispers. He also ran at Ramsgate with grass-track machines. So Alf decided to build himself a sprinter with minimum weight, long wheelbase, two-speed gearbox and the centre of gravity "in the right place." It has a 650 Triumph engine and although it took the 750cc British record this year, it has only beenat two meetings.
The first was the previous Records Day, when teething troubles kept it from performing correctly. Some indication of the lengths that Alf will go in his own quiet way in order to have everything just so is given in the fact that the Avon Slick tyre at the rear of the machine has had its tread width reduced specially for the Wellesbourne surface.
Mind you, he hasn't kept away from other forms of motorcycle sport either. There was a full scrambles season during which he "didn't do too badly". He would like to design and build a special scrambler with a "space frame" and thinks the Swedes go about the job properly. Trials? A few first class awards.
Hill-climb results carry the name Hagon very frequently and he has gone in for road racing as well. Indeed, despite quite a bit of mechanical bother he rode a Norton 'Inter' into 29th place in the 1953 Clubman's TT.
The Hagon dogma is: "The right machine for the job," and no compromises are accepted. He uses a lot of JAP engines but also has considerable faith in the 250 and 350 BSA units, while for his sprinter he chooses the 650 Triumph twin as the best available for the job. He reckons with a bit of tuning, he might have a go at the world standing-kilometre record with this machine. The jackpot question: why do Hagon machines do so well on the grass?
The object of the design is to give an easy ride. The long wheelbase helps with this considerably and there is a lot of know how in the Hagon-made rubber suspension front forks. These, by the way, are also featured in lightened form on the sprinter.
The Hagons are at their best on a rough track but then, as Alf says: "Most tracks are rough." Scrambles, trials, grass-trackers… before I left I looked at the sprint model and said: "If someone wanted you to build them one of these now would you?" and the answer was "Oh yes – I'll make anything." Dammit, I believe him too!
Enjoyed this snippet? It's taken from the exciting book, Alf Hagon: About more than speed.