Giacomo Agostini returns to Cadwell Park this July 25-26 to take part in the International Classic meeting, and he will be taking to the track on board the MV 500 that he raced there in the early 1970s for a parade that will also feature rivals from his racing days.
The list of riders taking part in Ago's Parade will include other multiple world champions, including the Italian's rival and 1973 team mate, Phil Read. Read had a superstar image and over the years the pair had many battles in world championships and international meetings. Phil will be parading an MV Agusta four-cylinder, the same as he raced at Cadwell Park in 1975.
Jim Redman MBE, who won six world titles for Honda in the mid-60s, will also be at the International Classic. Ago and Redman had some great races, especially in the 350 Class. Another works Honda rider from the 60s taking to the track will be Stuart Graham, mounted on a very special machine – a Honda 6 owned by the Japanese manufacturer. Stuart raced six-cylinder bikes in the 1966 world championship.
John Cooper, known as 'old moon eyes', had many epic battles with Ago in the early 70s and will be parading his BSA Rocket 3 at the event. Meanwhile David Hailwood will be representing his late father Mike, who had a multitude of encounters with Ago for both world titles and TT victories. David will be riding his father's Honda 4.
In his heyday Ago rode most weekends at international events, and some of the riders that he came up against will be parading with him at Cadwell Park this July. Mick Grant will take out his own Kawasaki KR750 that he raced against Ago in the F750 world championship. Honda and Cagiva rider Alex George, who was up against Ago every weekend at GPs and internationals will also be there. Winner of the Imola 200 for Ducati, Paul Smart, had a great dice with Ago at Cadwell in 1969, and both he and works Suzuki rider Stan Woods and Norton rider Rex Butcher will be part of the line up too.
Lincolnshire racers who raced Ago at Cadwell will also feature in the parade, including Derek Chatterton on a 350 Chat Yamaha, Jack Machin and Paul Cott, who are both riding some of Chris Bourne's TZ 750s.
There are also two further parade groups, starting with The Mansfield Parade covering the 80s and 90s. These will include Roger Burnett riding an RS 500 Honda, Chris Walker on a Honda RC45, Alan Duffus on a TZ 750, Ian Simpson on a OW01, Paul Marra Brown on a 500 Suzuki, and Steve Plater on a 500 Suzuki. The other class is The Park Parade for 60s and 70s machinery, including Bill Simpson on a TZ 350, Ian Martin on a BSA Rocket 3, Chris Mehew on a Yamaha TD2, Roy Toyne on a TZ 750 and many more.
For more details, including ticket information, click here.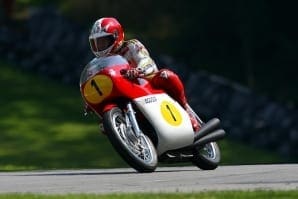 Are you going to see Ago's Cadwell return?