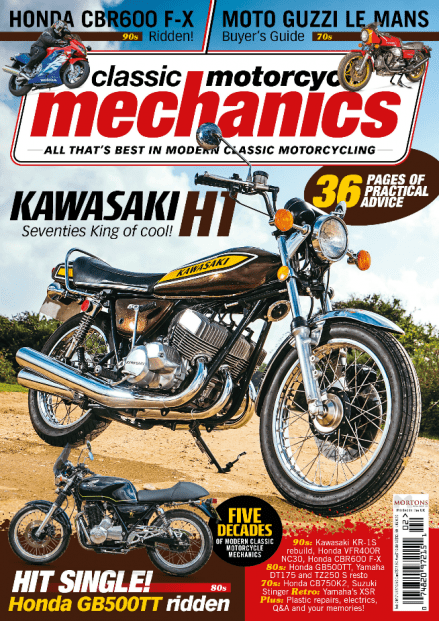 ARCHIVE
A very British Honda – the GB500TT.
1999 HONDA CBR600F-X
Andy Bolas on the forgettable but fantastic F-X.
NEWS
All of what's occurring in the classic bike world.
CALENDAR
It's freezing Feb, but lots to go and see!
FEEDBACK
Keep us honest! Write to CMM!
SHOW US YOURS
Now with added nostalgia! Check out 'The Way We Were!'
READER'S RIDE
David Romaine on why he loves his GB500TT…
HONDA GB500TT
Steve Cooper's appraisal of this big Honda single.
1975 KAWASAKI H1-F
Steve Cooper rides an iconic Seventies stroker!
SPANISH GETAWAY
Paul Berryman goes on a classic riding holiday!
YAMAHA XSR700
John Nutting rides a modern bike with a real retro twist!
BMW R1100S
A true coming classic!
WORKSHOP NEWS
A double helping of new tools and bits this month.
Q&A
Mark Haycock, Scoop and you with tips!
YAMAHA TZ250 S
James Whitham completes his racer!
YAMAHA DT175 MX
Time to sort the motor out with Ralph.
SUZUKI STINGER
Scoop does his usual 'one step forward…'
HONDA VFR400R NC30
Young Craig Prior on this new project for 2017!
KAWASAKI KR-1/S
Stan Stephens on part one of a resto/tune up of this stroker.
PLASTIC REPAIR
Scoop has found a great product!
1976 MOTO GUZZI LE MANS
Steve Cooper on this very special Italian.
HONDA CB750 K2
Mark Haycock sorts floats!
ELECTRICS PART 5
Ralph on relays.
HONDA C70
Niall Mackenzie on breaking down his Cub.