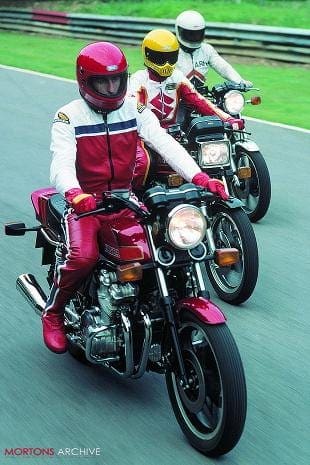 There once was a time when 750s were regarded as the pinnacle of motorcycle power and prestige. Ownership of a CB750, one of the Trident or Rocket triples, or – in hushed tones this – a Kawasaki Mach IV, implied the ultimate in cool. With three or four cylinders roaring below, even the weediest nerd could summon an image of barely rippling muscles, a diet of raw bones and with a queue of dribbling pubescent babes in tow.
But rather than refine the 750s through the decade of the 70s, the Japanese factories satisfied the market's lust for power with litre-plus models, and the smaller bikes were eventually despatched as passé.
Again the biggest bikes ruled the roost. But in time the 750s again evolved, and by 1983 were offering comparable performance and, more importantly, niftier handling that enabled them to run rings around the heavyweights. Eventually road racing adopted 750cc machines as the premier class (predating the current 800cc MotoGP class by 20 years, showing that there's nothing ever really new.
It took a while for the Japanese factories to get there. Development is by necessity an incremental process with only rare flashes of dramatically new machines.
In 1980, manufacturing considerations continued to influence how motorcycles were marketed. To reduce costs, components were used across a factory's range and, where possible, the same basic engine castings were used for up to three different capacity classes.
Raw and lean
Honda's 16-valve CB750F was almost identical to the CB900F which had been launched in 1978. At the time in the European market the bigger 902cc four had been augmented by the CB750K with four silencers and different styling. The CB750F was initially launched as the ultimate sporting tool in the US (where the 900 wasn't sold), only reaching Europe two years later.
Because its engine used a smaller 748cc capacity (from a 62x62mm bore and stroke), it could be argued that the CB750F was needlessly more bulky and heavier than it need be, but in fact it still felt as raw and lean as the 900, the only obvious external difference, apart from the colours and graphics being in the use of a conventional tubular steel rather than clip-on handlebar.
Suzuki's GSX750E had been launched at the end of 1979 alongside the bigger GSX1100E. Both were completely new machines intended to replace the GS750 and GS1000 fours that had been in production for three and two years respectively.
The GSX designation pointed to the use of four valves per cylinder, as in the CB750F's engine, but with a new twist: Twin Swirl Combustion Chambers (TSCC) in which the paired inlet and exhaust valves were positioned to provide a more compact combustion chamber that allowed a higher compression ratio.
Otherwise the 750cc Suzuki looked, apart from a couple of small details, just like the 1075cc model with its huge rectangular headlamp nacelle and a long 60.2in wheelbase.
Contrasting approaches
The Kawasaki Z750 had a lean bloodline, being in effect a bored-out version of the Z650 four, a machine that had already wowed the motorcycling fraternity four years earlier in its ability to just-about keep up with bigger bikes both with its ton-twenty top speed and outright agility. In theory the 750cc version was expected to be a better all-round prospect because it was lighter and smaller than its class competitors.
Otherwise the three bikes were similar with four-cylinder double-overhead-camshaft five-speed engines in duplex tubular-steel frames with 19in and 18in wheels and triple disc brakes. But that's as far as it went. In every other way the 750cc models from Honda, Kawasaki and Suzuki were about as different as they could be.
Testing all three side-by-side for Which Bike? magazine in the summer of 1980 – though without the benefit of being able to assess their performance at the MIRA test strip with its calibrated timing equipment – illustrated that there was no winner in the class, just contrasting approaches. Clearly the manufacturers had yet to work out what riders really wanted: each factory offered its own interpretation of what a 125mph 750cc sports machine should be.
I liked the Honda CB750F for all the same reasons that made the CB900F so appealing. The rider-bike interface was the best of the bunch, born of a long sleek fuel tank and a balanced but committed riding position resulting from a slightly raised but swept-back handlebar and rear-set footrests. The hand controls were light and smooth without any annoying roughness and grips, both hand and foot were soft rubber. The gearbox was precise and noiseless.
With a rev range from 1000rpm to the red line at 10,300rpm the CB750F's 79bhp engine was typically Honda: flexible and willing. Were it not for having the Suzuki and Kawasaki available for a direct comparison, you'd have thought that the Honda had a strong mid-range, but both the other bikes were more responsive, even though they pulled a higher top gear ratio than the Honda, which was revving busily at 5400rpm at 70mph. Only other flaw of the Honda was the level of high-frequency vibration that got through to the rider through the handlebar. Reflecting the Honda's lack of response was fuel consumption that ranged from 40 to 45mpg.
What slight deficiencies in the power delivery were made up for in the Honda's handling. It felt taut and agile, the suspension set up for roadholding rather than comfort with a level of feel from the Bridgestone tyres that was strangely better than on the Suzuki, even though the patterns were the same.
Unlike the CB900, the front fork didn't offer adjustable air pressure, though the rear shocks used both adjustability in rebound and compression damping, enabling riders to accommodate their own tastes in handling behaviour.
Braking from the triple discs, gripped by floating, single-piston calipers, was potent enough in the dry, but they squealed when wet. Honda had yet to get its brakes properly sorted.
Relaxed power
Once you got over the shock of the Suzuki's angular styling and its dubiously useful instruments such as a fuel gauge and digital gear indicator, it turned out to have the best engine of the three, being far punchier in the mid-range. With a light action to the twist grip and ergonomically well-thought-out handlebar levers, the power delivery from the shorter-stroke (67x53mm) engine felt both smooth and particularly lively from lower revs, which belied the higher claimed peak power of 80bhp at 9400rpm.
The relaxed power delivery made the Suzuki pleasant to ride over long distances, which were more easily achieved because it was more economical, with up to 51mpg, and had a larger 5.3-gallon fuel tank, giving a range of more than 250 miles.
Its handling was more suited to touring rather than sporty riding, with a long 60.2-inch wheelbase and soft suspension, despite the spring specifications having been stiffened up by the UK importers. The front fork, with a leading-axle design providing longer travel, suffered from lack of torsional rigidity and that also made the GSX750E slow to respond when pitching into corners. They often bottomed out during hard braking, but otherwise the slotted discs offered more than ample stopping power.
Compared to the Honda and especially the Suzuki, the Kawasaki was a little whippet of a machine. Smaller and lighter by about 50 pounds (almost a full tank load on the Suzuki), the Z750E was a logical development of the Z650. Inside the engine, valve sizes were bigger and the timing was longer than on the 650, and though power was lifted from a claimed 64bhp to 74bhp, less by far than the Honda or Suzuki, the Kawasaki could accelerate harder through the gears.
Silky power delivery with great throttle response and a rorty exhaust note made the bike great fun, especially because it was also nippier through the turns thanks to a wheelbase three inches shorter than the other bikes. Suspension had a wider range of adjustability with an air-pressurised front fork and four-position damping at the rear. Brakes too were great, with metallic pads in the calipers that were otherwise visually similar to the Honda's.
But if the Kawasaki held the performance and handling aces, its cramped riding position – partly a result of a much too lowered seat compared to the 650 and awkwardly positioned footrests – made it unsatisfying and annoying. Other frustrations included badly designed centre and sidestands, a vulnerable gear change linkage with lack of adjustability and a sloped seat that allowed the passenger to slide down onto the rider.
Because of their differing development backgrounds, the three bikes were completely different in character while remaining utterly conventional in their 1970s appearance.
It didn't stay that way for long. Increasing competition prompted a fresh look and within three years, Honda, Kawasaki and Suzuki had developed dramatically different machines in which chassis with more widely adjustable suspension, smaller wheels with wider tyres, and fairings which housed more potent engines in new configurations were the norm. View original article
| | | | |
| --- | --- | --- | --- |
| Model | Honda CB750FA | Kawasaki Z750E | Suzuki GSX750E |
| Engine | Air-cooled inline four | Air-cooled inline four | Air-cooled inline four |
| Capacity | 749cc (62x62mm) | 738cc (66x54mm) | 747cc (67x53mm) |
| Compression ratio | 9.0:1 | 9.0:1 | 9.5:1 |
| Carburation | Four 30mm Keihin | Four 34mm Keihin | Four 32mm Mikuni |
| Peak power | 79bhp at 9000rpm | 74bhp at 9500rpm | 80bhp at 9200rpm |
| Peak torque | 48ft-lb/7500rpm | 46.3 ft-lb/7500rpm | 46.4ft-lb/ 8400rpm |
| Frame | Tubular steel cradle | Duplex steel cradle | Duplex steel cradle |
| Brake, front | Dual 275mm discs | Dual 260mm discs | Dual 275mm discs |
| Brake, rear | 295mm disc | 260mm disc | 275mm disc |
| Tyre, front | B.stone 325H19 S703 | Dunlop 325H19 | B.stone 325H19 L303 |
| Tyre, rear | Bridgestone 400H18 | Dunlop 400H18 | Bridgestone 400H18 |
| Seat height | 825mm (32.5in) | 800mm (31.5in) | 825mm (32.5in) |
| Wheelbase | 1519mm (59.8in) | 1420mm (55.9in) | 1530mm (60.2in) |
| Fuel tank | 21 litres | 17.2 litres | 24 litres |
| Electrical system | 260w alternator | 238w alternator | 250w alternator |
| Weight (dry) | 233kg (512lb) | 210kg (463lb) | 233.5kg (514lb) |
| Est. top speed | 125mph | 122mph | 128mph |
| Est. 1/4 mile | 12.5s | 12.3s | 12.4s |
| Ave mpg | 42.5mpg | 45.3mpg | 44.3mpg |
| RRP inc (1980) | £1,780 | £1,729 | £1,699 |

Enjoy more Classic Motorcycle Mechanics reading in the monthly magazine.
Click here
to subscribe.