It arrived in 1980 in a background of gasps – the public didn't quite know what to make of the fastest the Suzuki ever.
Styled by German design house Target, the bullet-shaped nose cone and angular profile was unlike anything that had come before and motorcyclists the world over were split: they either loved it or hated it, there was no fence-sitting here.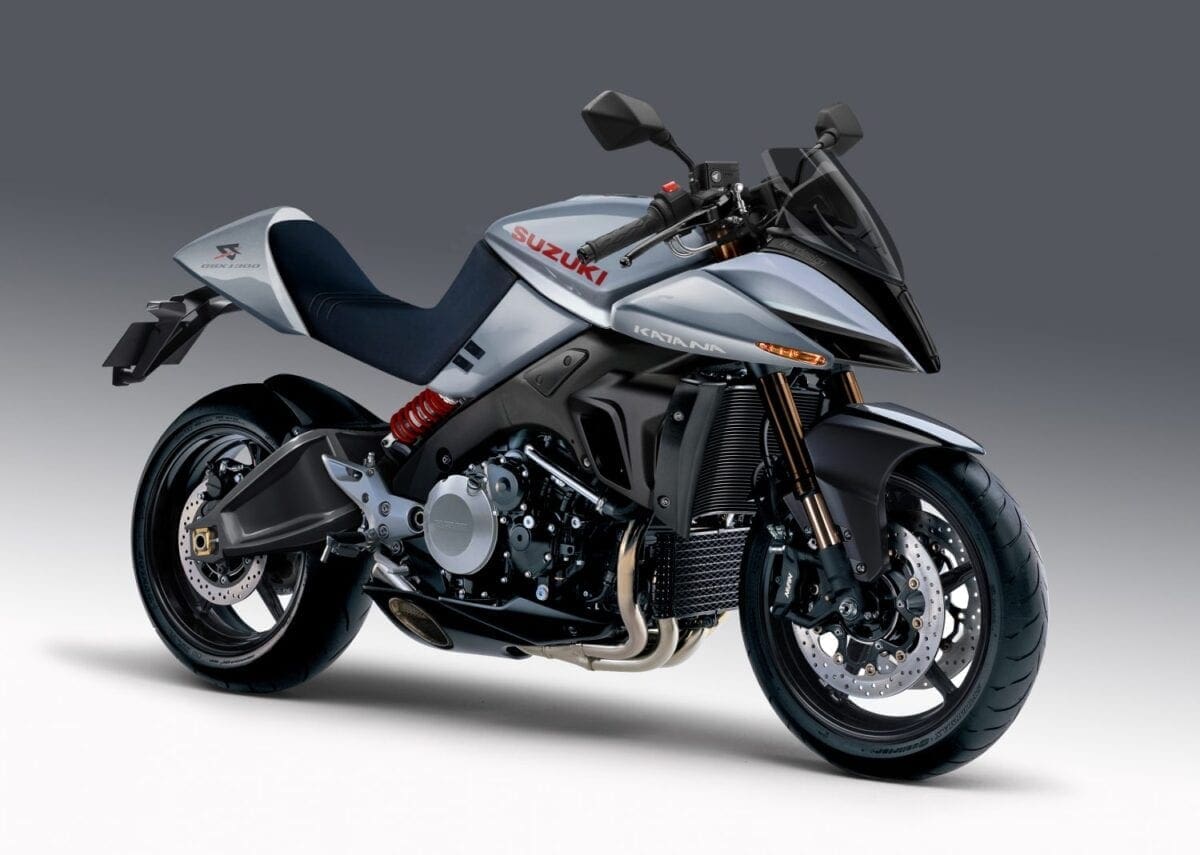 The space age looks may have arrived in the era of Star Wars but there was the go to match the show. Although discontinued after just four years, the Katana had made its mark (the styling cues can still be seen on some of today's bikes) and was resurrected many times in limited numbers. There were offshoots as well – the naked 550, shaft-drive 650, 750, made-for-racing 1000, as well as the later 250 and 400cc Jap market variants. Suzuki even created a re-styled 750 version with a pop-up headlight in 1984. Since then, the Katana brand name has been diluted, abused and misused on everything from a fully-faired 600 to a 50cc scooter, which is nothing short of criminal. Let's not forget, for a while the original Katana was the fastest, most badass powered two-wheeler ever to rumble on the Queen's highways but until Suzuki build the six-cylinder Stratosphere concept here's our vision of what could be.
ENGINE
What's the most dyno-busting powerplant in the Suzuki line-up? The Hayabusa and surprisingly nimble B-King engine clearly rules in the grunt stakes so we'll start with that. As good as the motor is though, we'd still like more real-world torque for those traffic light getaways so we've re-tuned it for more bottom-end oomph at the expense of a few mph lopped off the top speed. We don't expect rear tyres to last long… The only other change is the ditching of those overweight exhaust cans which should snip a few milliseconds off the launch time. It'll eat overweight V-Max's for breakfast and provide hours of one-wheel entertainment in whichever of the first three gears you choose.
CHASSIS
While the B-King is fantastic in a straight line, it's not so clever in those corners thanks to weight and the distribution of it: which is why our bike uses a modified B-King frame, a KTM RC8 swingarm and GSX-R1000 big piston forks on bigger versions of the Gladius' five-spoke rims. Rising rate twin rear shocks help tame our 170bhp beast but also provide the visual appeal of old.
BODYWORK
Our tribute to the Katana uses an original fuel tank with its the off-centre fuel cap arrangement. The front cowl keeps the aggressive and streamlined angular shape but incorporates the ram-air intakes and a pop-up headlight incorporating compact, but powerful LED beams. An adjustable flip-up screen is an option too which enables our Kat to be an effective all-day ride. Although pillions are catered for with a minimal seat pad under the tail unit's cowling (designed to minimise drag), we'd prefer to ride solo: there's only so much screaming and feet-under-the-armpits we can take.
Hey! Like what you see? Then head to www.kardesign.co.uk for more of his weird and wacky creations. Oh and he's also doing a 2017 calendar packed chock-full of lovely Retro Reboots, so go visit and buy one!
Enjoy more Classic Motorcycle Mechanics reading in the monthly magazine.
Click here
to subscribe.
Comments
comments