The latest issue of Classic Motorcycle Mechanics is out now! Get yours at any discerning newsagent or subscribe to get your copy delivered every month.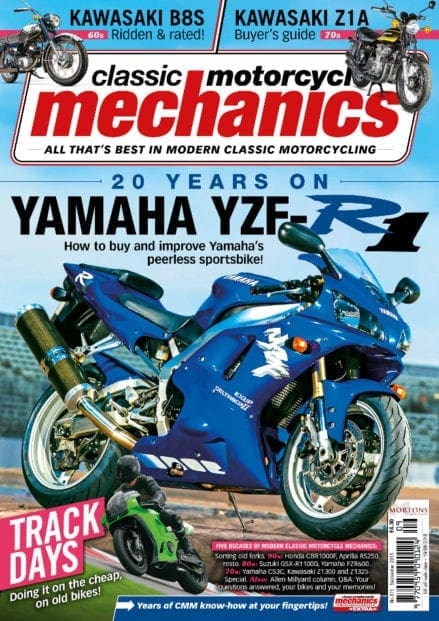 ARCHIVE
Dave Jefferies and the R1 at the 1999 TT.
CMM MARKETPLACE
What's hot to trot with 1990s sportsbikes?
CMM STUFF
New kit, tools, tyres and stuff.
CMM TESTED
We try stuff out.
NEWS
Events, news and what's happening.
FEEDBACK
WIN Bridgestone tyres for our star letter!
SHOW US YOURS
WIN S-Doc cleaning kit and Tamiya kits!
KAWASAKI B8S
Steve Cooper falls in love with a little gem!
TRACK DAYING A CLASSIC!
How to do it on a very tight budget!
TRACK DAYING 2
Ralph Ferrand pops his track cherry on a road classic!
CMM EXTRA!
Subscribe and have 10 million CMM words at your fingertips!
YAMAHA YZF-R1
Mark Forsyth on the 20-year-old sports legend.
BUYING AN R1
Scott Redmond on what to look out for.
IMPROVING AN R1
Olly Crick on how to improve the 4XV.
RETRO REBOOT
Suzuki's GSX1000 Katana…
Q&A
Mark Haycock with a page of tips.
KAWASAKI Z1325
Ralph Ferrand gets on a lathe…
YAMAHA C3SC
Scoop reckons it's on its way!
ALLEN MILLYARD
This month Allen gets frame building!
HONDA CBR1000F
CMM reader Dave Brooking is blessed from above.
WORKSHOP: OLD FORKS
Scoop tackles both his Yammy's gammy legs.
YAMAHA FZR600
Paul Brookes on cutting and shutting his racing homage!
KAWASAKI Z1A
Steve's guide to buying this Kawasaki classic!
KAWASAKI Z1300
Ralph gets further on with the mighty six.
SUZUKI GSX-R1100G
Wildy puts pen to paper to sort his rear-end out!
YAMAHA YZF-R1
Niall Mackenzie returns and he's looking for an R1 project.
APRILIA RS250
Jeff Ware gets the two-stroke finished.
PIP HIGHAM
Pip has a mountain to climb in honour of brother Bill.
Enjoy more Classic Motorcycle Mechanics reading in the monthly magazine.
Click here
to subscribe.
Comments
comments