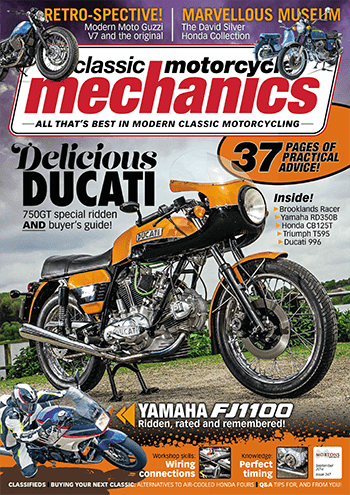 06 ARCHIVE
Bimota's Tesi 1D racer.
08 1986 YAMAHA FJ1100
Mossy mounts his Marmite bike: the big Yam FJ.
12 NEWS
The best from Bonhams, the CMM Stafford Show & more!
18 CALENDAR
Do you remember what's on in September?
20 FEEDBACK
You have your say.
22 SHOW US YOURS
Now with added nostalgia! Check out 'The Way We Were!'
26 MAGIC MUSEUM
CMM gets an invite to The David Silver Honda Collection.
32 ENDURANCE LEGENDS
Your first call on 2017's event of the year!
38 1974 DUCATI 750GT
Steve Cooper falls in love with a beauty from Bologna.
46 YAMAHA FJ1100
Chris Moss on the history of the FJ and more besides.
52 MOTO GUZZI V7 II
John Nutting rides a modern retro and recalls the original.
60 RETRO REBOOT
Kawasaki's GPz1100 for the modern world.
130 NEXT MONTH
Yamaha's Fizzy, On Any Sunday, Metisse and more!
36 SUBSCRIBE!
Dear all: we need you to subscribe!
64 WORKSHOP NEWS
New metal tools and reviews.
66 Q&A
Mark Haycock with more tips.
68 WIRING WOES
Ralph Ferrand gets connected.
72 TIMING
Mark Haycock on the nuances of this necessity.
74 PROJECT BROOKLANDS
Stan Stephens' latest project.
78 YAMAHA RD350B
Wiring on Scoop's scoot!
80 HELI-COILING
Stan Stephens sorts out an RG500 with issues.
84 DUCATI 996
Jim Lindsay joins CMM with his big Bologna twin.
88 BIKE BENCH SET-UP
Scoop on the best invention for the ageing restorer.
92 HONDA CB125T
Ralph Ferrand finishes the twin.
98 TRIUMPH T595
Niall Mackenzie and his accidental project bike.
110 DUCATI 750GT
Scoop on how to buy one.
114 YAMAHA FZ600 RACER
'Spike' Edwards finishes Nancy.
126 NOT ONLY…
…but also. Scott Redmond on alternatives for old Honda fours.
Comments
comments