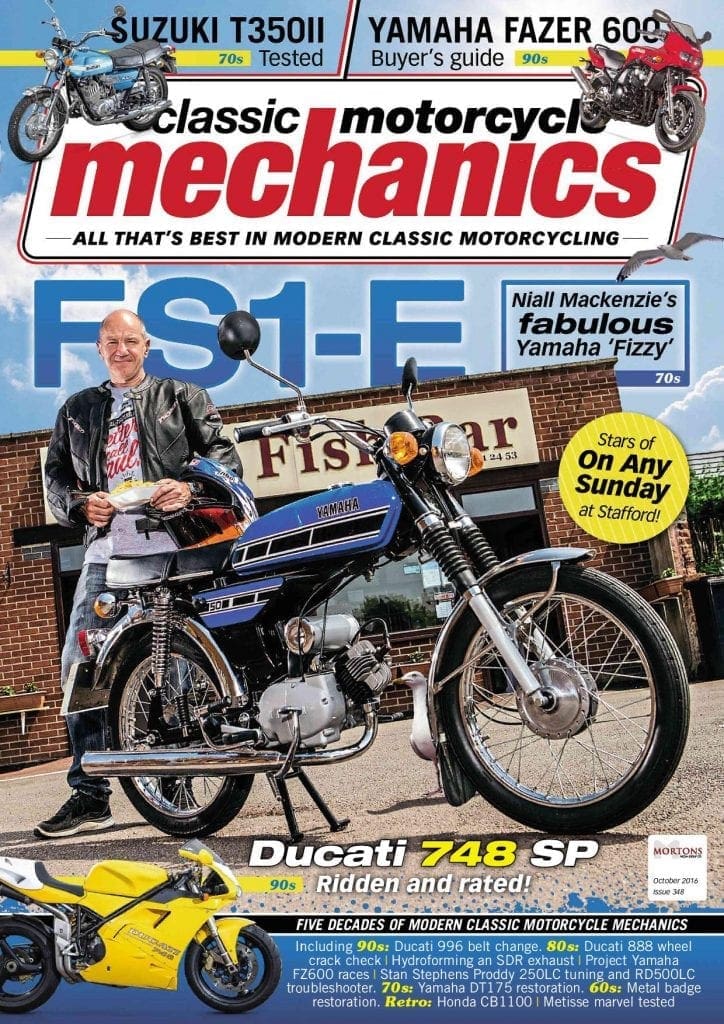 ARCHIVE
Schwantz's first superbike.
1997 DUCATI 748 SP
CMM new boy Al Fagan on the mini 916.
NEWS
More from Bonhams and the CMM Stafford Show!
CALENDAR
October is looking packed!
FEEDBACK
Your views heard.
SHOW US YOURS
Now with added nostalgia with 'The Way We Were!'
READER'S RIDE
Steve Mort swaps a frantic R1 for a retro Honda CB1100.
ON ANY SUNDAY
The stars of the film are at Stafford! Here's the story.
1977 YAMAHA FS1-E
Niall Mackenzie pops out for a bag of chips. And a sausage, and a pickled egg.
1971 SUZUKI T350
Our Scoop on the pretty Suzuki two-stroke.
METISSE SPECIAL
John Nutting rides a rarity but can we afford it?
RETRO REBOOT
Sixteener Special the Honda SS50 reimagined!
WORKSHOP NEWS
New metal tools and reviews.
Q&A
Mark Haycock with more tips.
PROJECT DUCATI 888
Mark Forsyth on the importance of strong wheels!
YAMAHA FZS600 FAZER
Andy Bolas on this 'coming classic' middleweight naked.
TUNING THE RD250LC
Stan Stephens goes back in time.
BADGE RESTORATION
Steve Cooper restores metal badges.
RD500LC WOES
Stan again on what can go wrong.
DUCATI 996
Jim Lindsay changes the belts on his Bologna bullet.
EXHAUST HYDROFORMING
Pip Higham makes his own SDR200 exhaust!
YAMAHA DT175
Ralph Ferrand buys another little restoration. Class!
TIMING TALES
Mark Haycock with part two.
YAMAHA FZS600 FAZER
More facts on this fun future classic.
YAMAHA FZ600 RACER
Spike finally races Nancy.
FUN WITH FREE ADS
Scott Redmond gives us tips on how to root out a bargain.
Enjoy more Classic Motorcycle Mechanics reading in the monthly magazine.
Click here
to subscribe.
Comments
comments