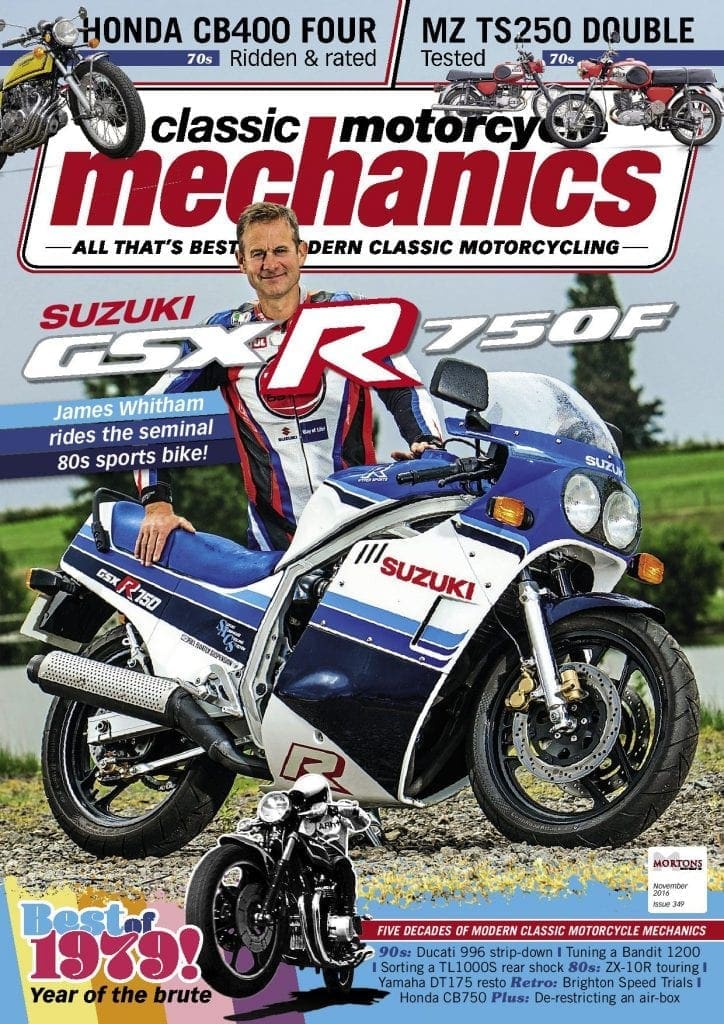 ARCHIVE
Wayne Rainey at the 1987 Transatlantic races.
HONDA CB400/4
Mossy on the middleweight of the 1970s.
NEWS
Events, reports and what's happening in our world.
CALENDAR
Remember, remember bikes are great in November!
FEEDBACK
You tell us how it is!
SHOW US YOURS
Now with added nostalgia! 'The Way We Were!'
READER'S RIDE
Dave Brooking heads to Ireland on an £800 Kwak!
BRIGHTON ROCKS
The glorious Speed Trials!
ENDURANCE LEGENDS
More info on this 2017 event.
SUZUKI GSX-R750F
James Whitham on the legendary Slabbie.
MZ MISCELLANY
Steve Cooper on a pair of Eastern European marvels.
BIKES OF 1979
John Nutting on this amazing year for motorcycling!
RETRO REBOOT
What if Kawasaki made a KR500 for the road?
WORKSHOP NEWS
New metal tools and reviews.
Q&A
Mark Haycock, Scoop and YOU with tips!
YAMAHA RD350
Scoop once more fettles his Yammy twin.
HONDA CBR600 F-X
Andy Bolas on this 'coming classic' middleweight.
SUZUKI TL1000S
Andy Bolas sorts his suspension.
SORTING AN AIR-BOX
Steve Cooper shows you how!
DUCATI 996
Jim Lindsay strips his!
SUZUKI GSF1200 BANDIT
Bolas is back with the Bandit!
WIRING PART 3
Ralph Ferrand and connections!
YAMAHA DT175
Ralph again; gets on with part 2!
HONDA X-11
Coming classic?
HONDA CB750 K2
Mark has another project!
MV AGUSTA 350
Scoop checks out a sizzler.
HONDA SS125
She's pretty much done!
MAKE OR BREAK?
Revisited: Five years on Scott Redmond check prices.
Comments
comments