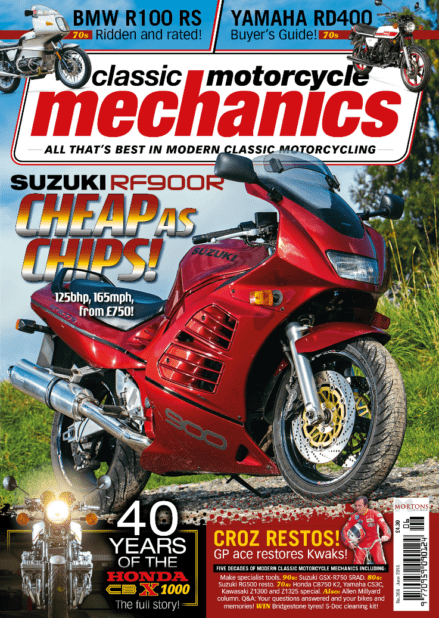 The latest issue of Classic Motorcycle Mechanics is out now! Get yours at any discerning newsagent or subscribe to get your copy delivered every month.
ARCHIVE
Lovely shot of a Gus Kuhn boxer-twin racer!
CMM MARKETPLACE
On the subject of Beemers… what's pricey and what's not!
CMM STUFF
New kit, tools and tyres and stuff.
CMM TESTED
We try stuff out.
NEWS
Events, news and our fave Cornish classic enclave.
FEEDBACK
WIN Bridgestone tyres for our star letter!
SHOW US YOURS
WIN S-Doc cleaning kit and Tamiya kits!
SUZUKI RF900R
Andy Bolas on this cheap Suzi power-house!
BMW R100 RS
Steve Cooper on the boxer-twin trans-continental tourer.
YAMAHA YZF-R1
2002's 5PW is a beaut: buy one!
HONDA CBX1000
John Nutting on the birth of the Honda six…
CROSBY RESTOS!
Graeme Crosby restores old Kwaks in Kiwi-land!
RETRO REBOOT
Honda's CBR-XX Super Blackbird reimagined…
Q&A
Mark Haycock with a page of tips.
ALLEN MILLYARD
The genius is sorting his six's clutch!
KAWASAKI Z1325
Ralph Ferrand fits and oil-cooler to the powerful Zed.
SUZUKI GSX-R750 SRAD
Scott Redmond is exhausted this month. It's an end-can thing.
KAWASAKI Z1300
Ralph is sorting the valves on his mighty six this month.
YAMAHA CS3C
Scoop gets a little stuck this month! Or something is!
YAMAHA RD400
Scoop's guide on the ultimate street two-stroke?
PROJECT KEV RAYMOND
Well, more the bikes owned by the man himself!
WORKSHOP: TOOLS
Scoop shows how to make specialist tools.
HONDA CB750 K2
Mark Haycock gets to work on the motor.
PIP HIGHAM
Be loud and proud, says our Pip!
Enjoy more Classic Motorcycle Mechanics reading in the monthly magazine.
Click here
to subscribe.
Comments
comments