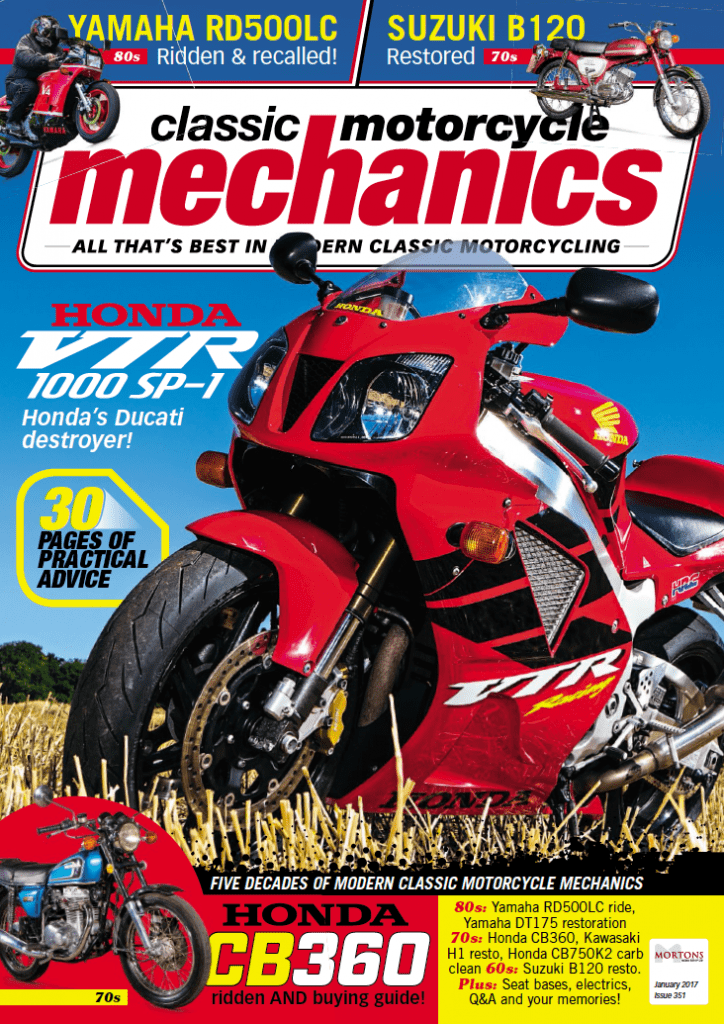 ARCHIVE
Suzuki's gorgeous GS1000S.
1986 Yamaha RD500LC
Andy Bolas on the Yamaha V4 big-bore two-stroke!
NEWS
Events, reports and what's happening in our world.
CALENDAR
Happy New Year!
FEEDBACK
We love to hear from you!
SHOW US YOURS
With added nostalgia! Check out 'The Way We Were!'
Kawasaki H1
Check out this amazing first-timer reader resto!
MOTO GUZZI CALIFORNIA
Steve Cooper on the quirky 1970s cruiser.
2000 Honda VTR1000 SP-1
Mark Forsyth rides this big V-twin Ducati destroyer.
Suzuki B120
Birthday boy Bill restores a Suzook classic!
1976 Honda CB360
John Nutting rides with a rose-tinted visor.
RETRO REBOOT
Yamaha's TDR250, recreated as a 350!
WORKSHOP NEWS
It's back, it's bad, it's mad.
Q&A
Mark Haycock, Scoop and you with tips galore!
YAMAHA DT175 MX
Ralph Ferrand spins the wheels…
STAN STEPHENS
Stan on his Project Brooklands with 'classic-modern' parts.
DUCATI 996
Jim Lindsay gets forked off and shocked with this Duke.
WIRING: CHARGING
Ralph Ferrand on this black art.
REPAIR SEAT BASES
Steve Cooper shows you how.
1975 Honda CB750 K2
Mark Haycock cleans carbs in part two with this project.
YAMAHA TX500
Mark (again) with part one of servicing this twin.
YAMAHA RD350
Scoop sorts out the ignition with a cool kit.
MAKE OR BREAK?
Scott Redmond revisits these: what's happened to prices?
Enjoy more Classic Motorcycle Mechanics reading in the monthly magazine.
Click here
to subscribe.
Comments
comments