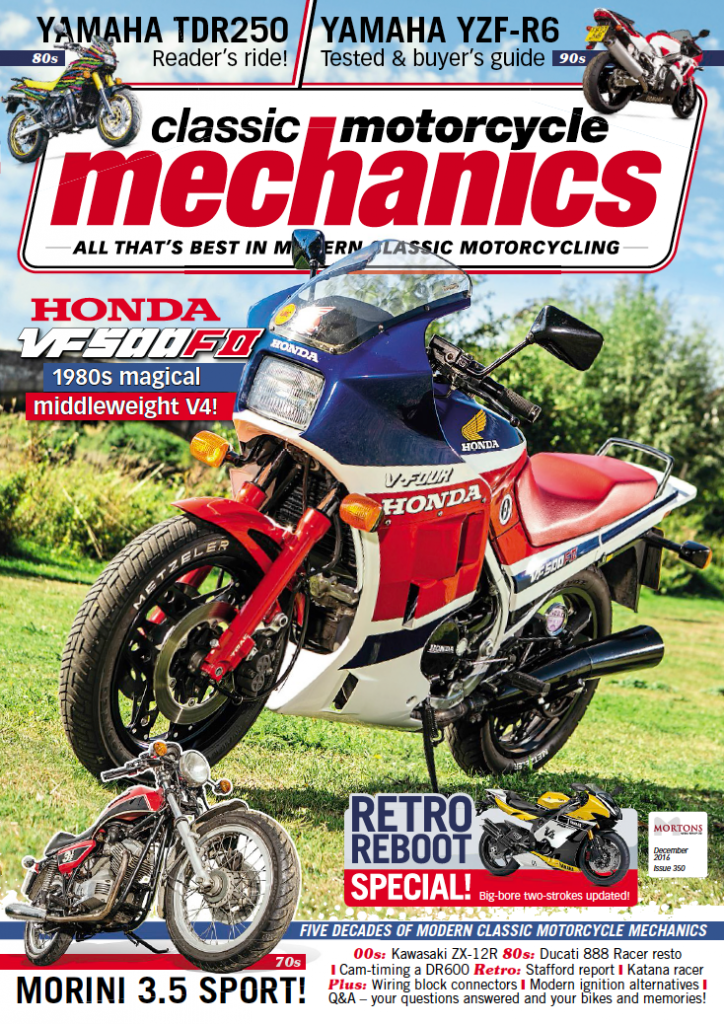 ARCHIVE
When the humble Super Dream ruled!
2000 Kawasaki ZX-12R
Al Fagan rides a coming classic hyperbike.
NEWS
Events, reports and what's happening in our world.
CALENDAR
Christmas is a-coming, the goose is getting fat…
FEEDBACK
You keep us honest.
SHOW US YOURS
Now with added nostalgia! Check out 'The Way We Were!'
SHOW REPORT!
How super was this year's Stafford show?
MOTO MORINI 3.5 SPORT
Steve Cooper on the twin.
ENDURANCE LEGENDS
Suzuki to build a race Katana for the event!
1999 YAMAHA YZF-R6
Bertie Simmonds on this revvy supersport rascal.
READER'S RIDE
CMM reader Ella Middleton and her Yamaha TSR250.
1986 HONDA VF500 FII
John Nutting on the jewel V4!
RETRO REBOOT SPECIAL!
All the big-bore two-stroke reboots repainted!
Q&A
Mark Haycock and Scoop with tons of tips!
YAMAHA DT175 MX
Ralph Ferrand powder-coats his trail-iron!
WIRING CONNECTORS
Ralph once more on electrickery…
SUZUKI DR600
Paul Berryman has cam-chain woes! Poor bloke!
DUCATI 888
Mark Forsyth finds the racer coming together.
TWO-STROKE ISSUES
Stan Stephens highlights some issues he's had!
KAWASAKI ZRX1100
Alan Dowds returns… she's looking good!
YAMAHA YZF-R6
Scoop gives us the buying low-down on our main test machine.
YAMAHA RD350
Scoop sorts out the ignition with a cool kit.
MAKE OR BREAK?
Revisited: Five years on Scott Redmond check prices.
Enjoy more Classic Motorcycle Mechanics reading in the monthly magazine.
Click here
to subscribe.
Comments
comments