Suzuki Spa Katana project bike ridden and rated, Laverda 3C quick spin, James Whitham joins CMM, Honda CBR600F and Suzuki GT750 'Kettle' buyer's guide and GT250 ridden. Plus all the regulars. On sale now!
• Editor's intro
Bertie sets the scene
• Archive
He was a speedway whizzer from CHiPs! Bruce Penhall
• 1974 Laverda 3C
Chris Moss always loved a triple treat back in the day
• News
News, views and Mark Williams and Steve Cooper columns
• Calendar
We wish it could be Christmas every day. Pricey, though
• Feedback
Don Morley's CB500 found and lots of your views!
• Show us yours
You've got an amazing collection of restored machines!
• Eau de Cologne
Paul Berryman on why the big bike shows are going retro
• Suzuki GT250 X7
Suzuki's ton-topper with a ton of Steve Cooper on board!
• Boomerang bike
A Down Under Powervalve returns to its first owner more than once
• Suzuki GSX1100 Spa Katana
Was all the blood, sweat, tears and cash worth it?
• Rickman Kawasaki
TV director finds and rides the bike of his dreams
Yamaha RD350LC• Field of dreams
CMM launches THE project of 2015 – the RD350LC Retro Reboot!
• Honda CBR600F
John Nutting recalls the first generation in MIRA Files
• Yamaha YZF-R1
The original is 17 – here's our version for today's retro tastes
• Next month
Honda Britain, CB750, BMWR80 and Mackenzie's Fizzy finished!
WORKSHOP
• Workshop news
Toodle with Pip and new bits.
• Hail seizure!
How to fettle seized fittings
• Kawasaki W1
Steve Cooper on how to rebuild this cool Kwak motor
• Project Suzuki DR600
Paul Berryman's big thumper!
• Bike registration
Mark Haycock on registration and bike numbers
• Project Loctite Yamaha FZ750
Stavros returns with the latest on his superstock restoration
• Project Suzuki X7
James Whitham joins CMM with this new restoration!
• Project Suzuki GSX-R1100L
Steering system dismantled
• Project Honda CB750 RC42
Scoop strips the fairing!
• Suzuki GT750 'Kettle'
Steve Cooper tells us what to watch out for with the Kettle
• Project Rickuki
Scoop's cafe racer takes shape
• Q&A
You ask and we reply. Ta-da!
• Honda CBR600F
Why 90s steelies are best buys!
Useful links
Search for previous articles and issues
Subscribe to Classic Motorcycle Mechanics
Classic Motorcycle Mechanics – Running, riding and repairing Japanese and European classics
Digital subscription to Classic Motorcycle Mechanics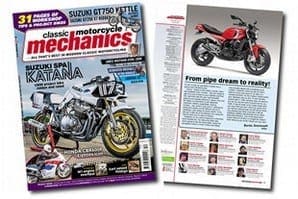 New issue's out!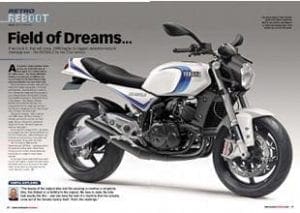 Enjoy more Classic Motorcycle Mechanics reading in the monthly magazine.
Click here
to subscribe.
Comments
comments