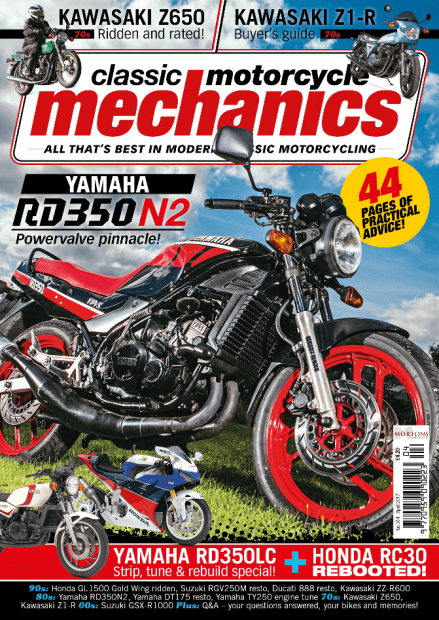 ARCHIVE
Sheene's Swedish set.
1992 HONDA GL1500 GOLD WING
Bertie Simmonds rides the ultimate touring motorcycle.
NEWS
CMM contributors join Team Classic Suzuki for 4-Hour!
CALENDAR
Prescott Hill Climb, Stafford Show and much more!
FEEDBACK
We welcome your letters and emails: keep us honest!
SHOW US YOURS
Now with added nostalgia! Check out 'The Way We Were!'
HONDA VFR750 F-L
What happens when the bomb-proof V4 is found to be anything but?
1977 Kawasaki Z650
Steve Cooper rides this contender for 'best all-round classic ever!'
1987 Yamaha RD350 YPVS N2
Andy Bolas rides perhaps the pinnacle of 350 Powervalve development.
Kawasaki ZZ-R600
Scott Redmond rides £700-worth of unloved 90s machine.
BRISTOL'S BEST
Ralph Ferrand is let loose at Shepton Mallet to find the best in show!
RETRO REBOOT
Re-creating the legendary Honda RC30.
WORKSHOP NEWS
New metal and old kit tested.
Q&A
Mark Haycock and Scoop with tips!
SUZUKI RGV250M
CMM newcomer Paul Chance with his two-stroke resto.
YAMAHA DT175 MX
Ralph Ferrand is on with part seven: the motor.
HONDA CB750
Scoop says farewell to his RC42!
YAMAHA RD250/350LC
Stan Stephens on stripping, tuning and rebuilding this twin.
DUCATI SINGLES
Pip Higham delivers a lecture on the genius of Fabio Taglioni.
Kawasaki Z1-R
Steve Cooper's buyer's guide on the (almost) forgotten Zed.
2001 SUZUKI GSX-R1000
Scottie again on a 'coming' (and used) classic.
FITTING SHOCKS
Steve Cooper chooses and fits shocks to his RD350.
YAMAHA TY250
Stan Stephens on tuning this iconic trials bike.
DUCATI 888 RACER
Mark Forsyth finds his Bologna bullet is burping a lot!
MAKE OR BREAK
Scott Redmond on how prices have changed over the years.
Comments
comments